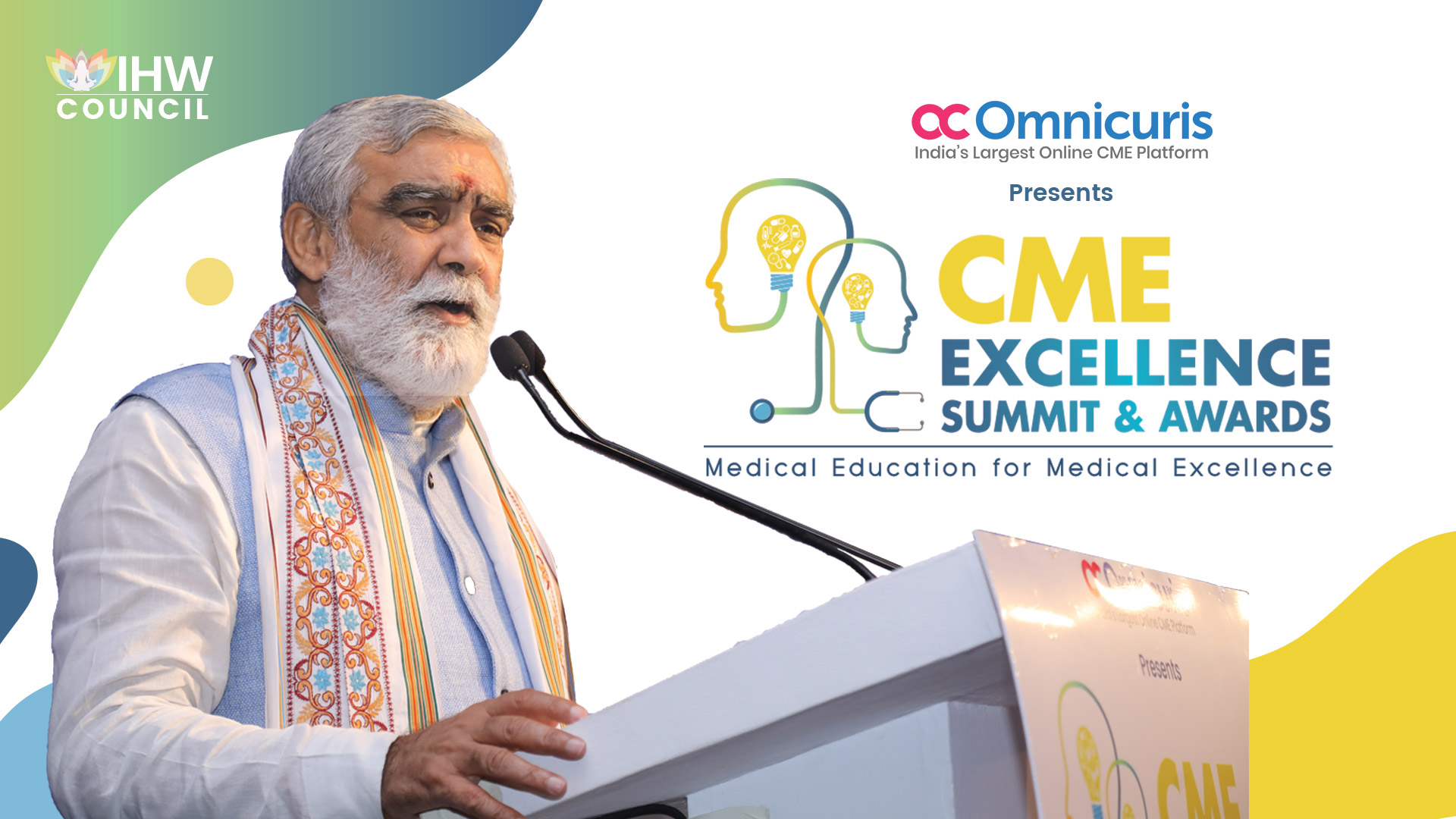 The initiative aims to further CME across India for ensuring the continuance of a quality healthcare workforce. The initiative will engage policymakers, fraternity of doctors, pharma organizations, regulatory bodies, medical organizations and societies, publishers and knowledge partners, and allied organizations who are ensuring that CME initiatives achieve their objectives in India. The initiative will witness multiple discourses on related subjects and recognize the achievers and impact makers who are doing exceptional work in the field.
PHILOSOPHY
It is our core belief that a stronger and skilled workforce of doctors and specialists are essential to the healthcare delivery ecosystem in India. With the increasing disease burden and rapid advancements in medical sciences, it becomes necessary to keep the doctors, specialists, and medical fraternity updated with the latest knowledge in their field and CME has a critical role to play in achieving these objectives.
VISION
The forum aims to create multilateral discourses that explore ways and means to make CME training affordable, accessible, and effective while recognizing the impact makers in the field.
CONTEXT
The Medical Council of India established a code of ethics stating that members should complete 30 hours of Continuing Medical Education (CME) every five years. This has triggered much activity and good work in the field of providing continuing medical education to the doctors amidst a number of challenges.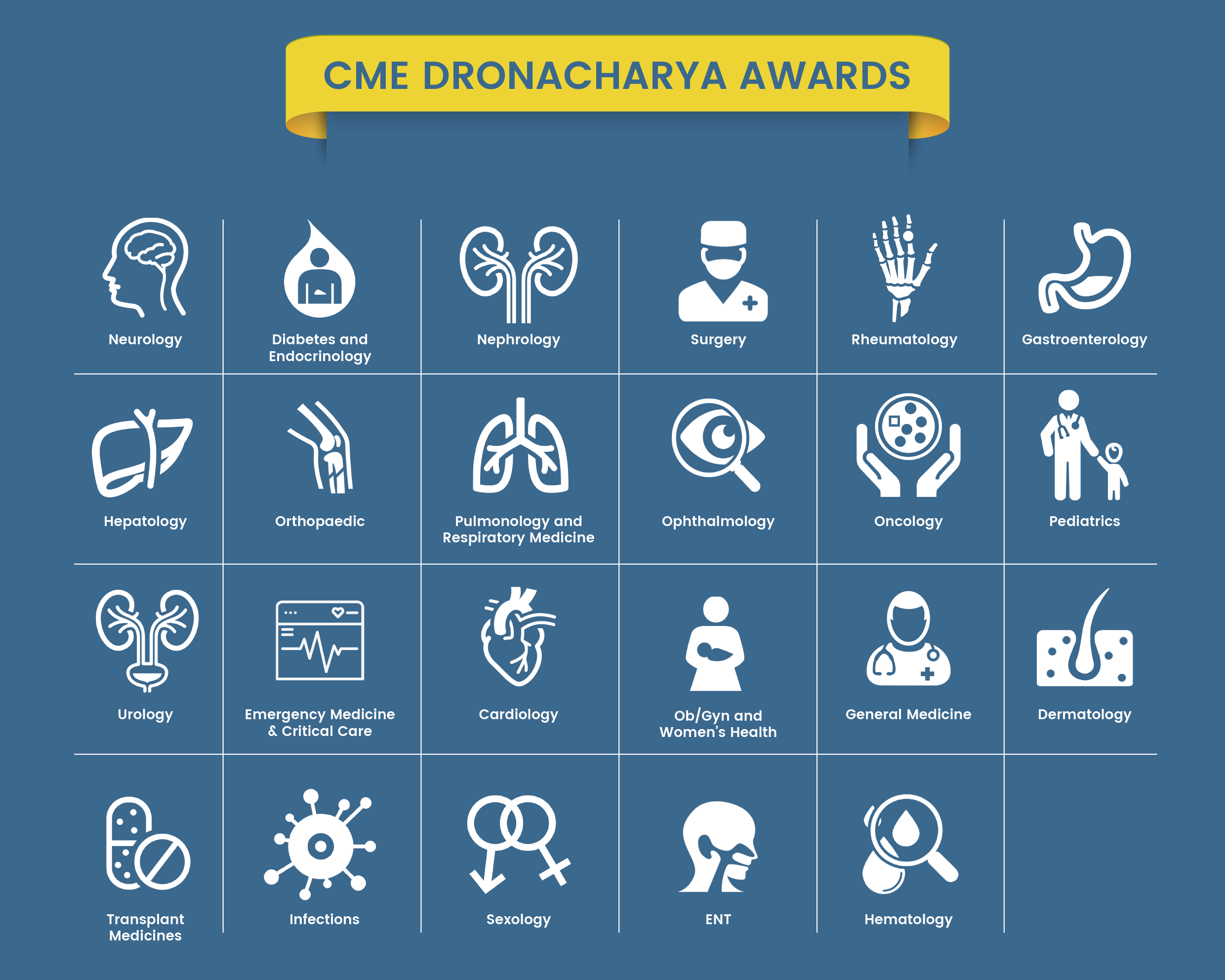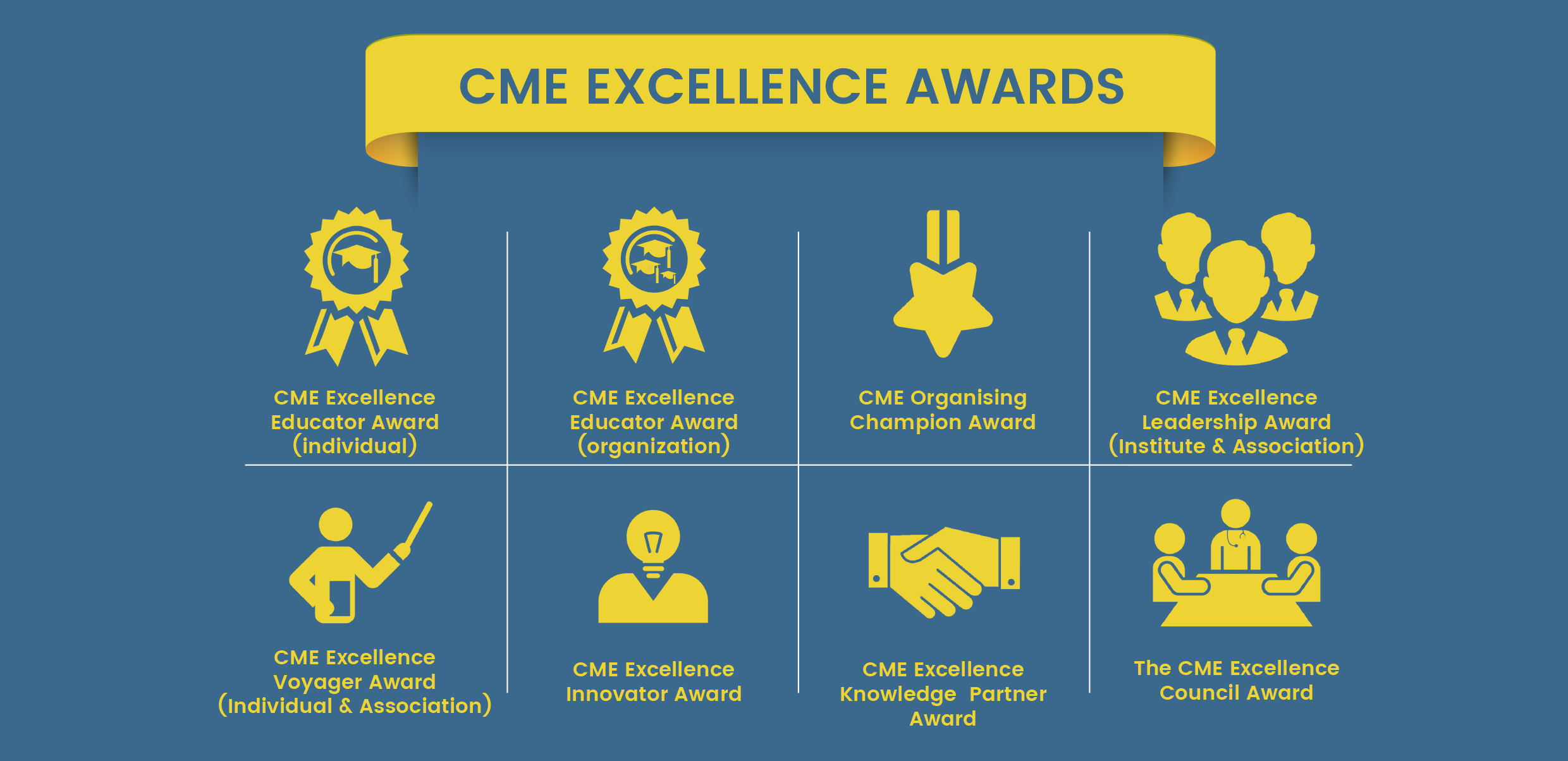 Thought Leadership Sessions
1. THE CME IMPACT ON AYUSHMAN BHARAT
The Ayushman Bharat Scheme needs its doctors across the wide Indian geography to be periodically trained and upgraded to the latest technology and medical sciences, so that the best healthcare services can be provided to the beneficiaries. How can a robust CME program help Ayushman Bharat achieve its objective?
2. INDIAN CME GUIDELINES AMONG INTERNATIONAL CME GUIDELINES: WHAT NEEDS TO CHANGE?
For a healthcare workforce at par with the world, the CME training programs need to abide by international standards and guidelines. At the same time, we should also not ignore the specific aspects of Indian healthcare system. A detailed assessment of the CME guidelines and polices can really help in the preparation of a comprehensive guidelines involving the best of both worlds.
3. THE ROLE OF PHARMA IN CME IN INDIA
The Indian pharmaceutical industry has always been a key stakeholder in the CME ecosystem. Given the high cost of CME training, financial backing from the pharma sector is much required specially in India with its healthcare challenges. While the support is welcomed, the industry also needs to check against unethical influences. There is a need for much deliberations on the way to achieve the right balance of transparency and quality while retaining the industry support.
4. ROLE OF HOSPITALS IN CME: WHERE IS INDIA HEADED?
Globally CME is becoming a thrust area for hospitals, as it is one of the most impactful methods for sharing medical knowledge and enhancing the quality of patient care. How are hospitals in India gearing up to embrace CME for better quality of healthcare services?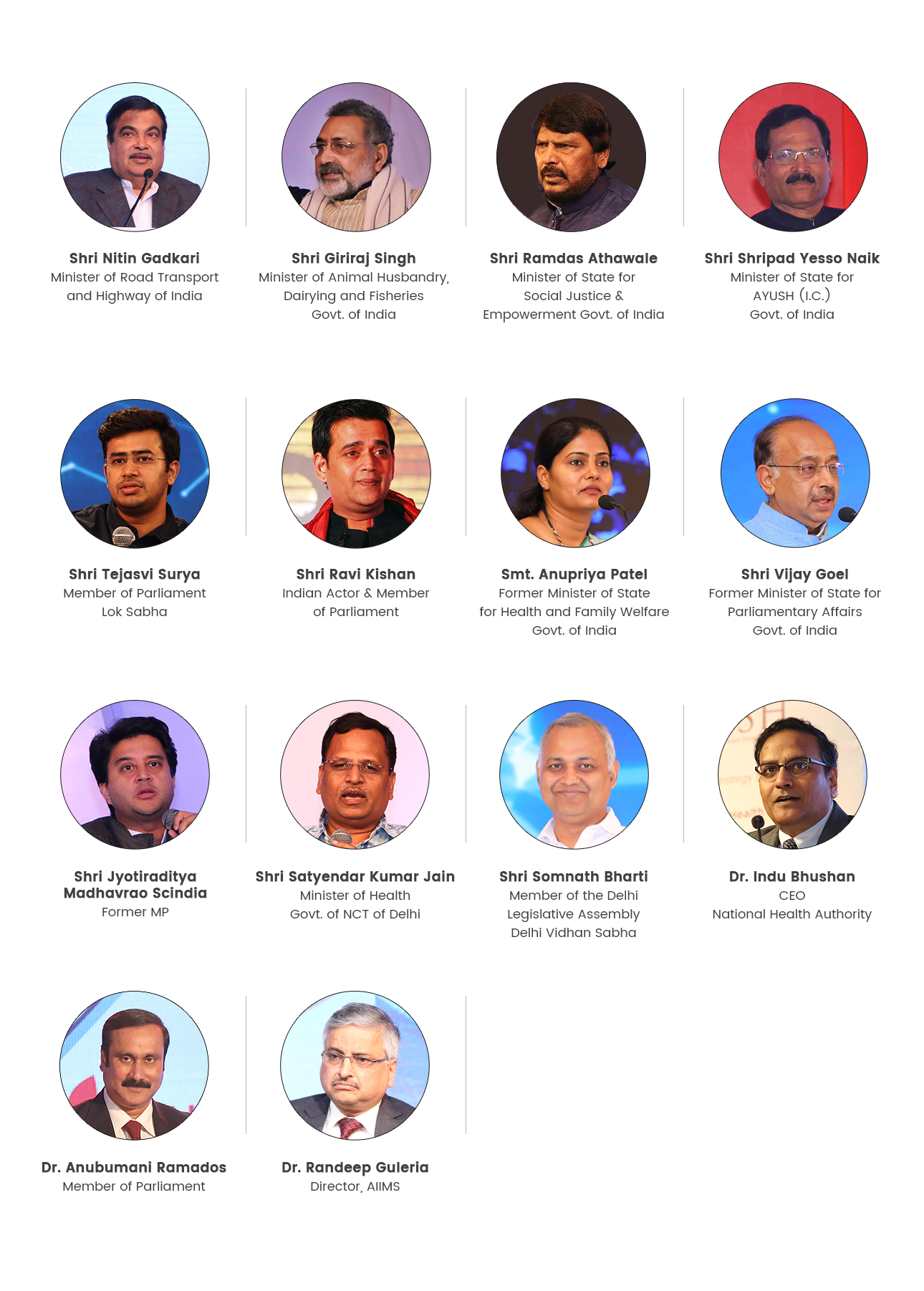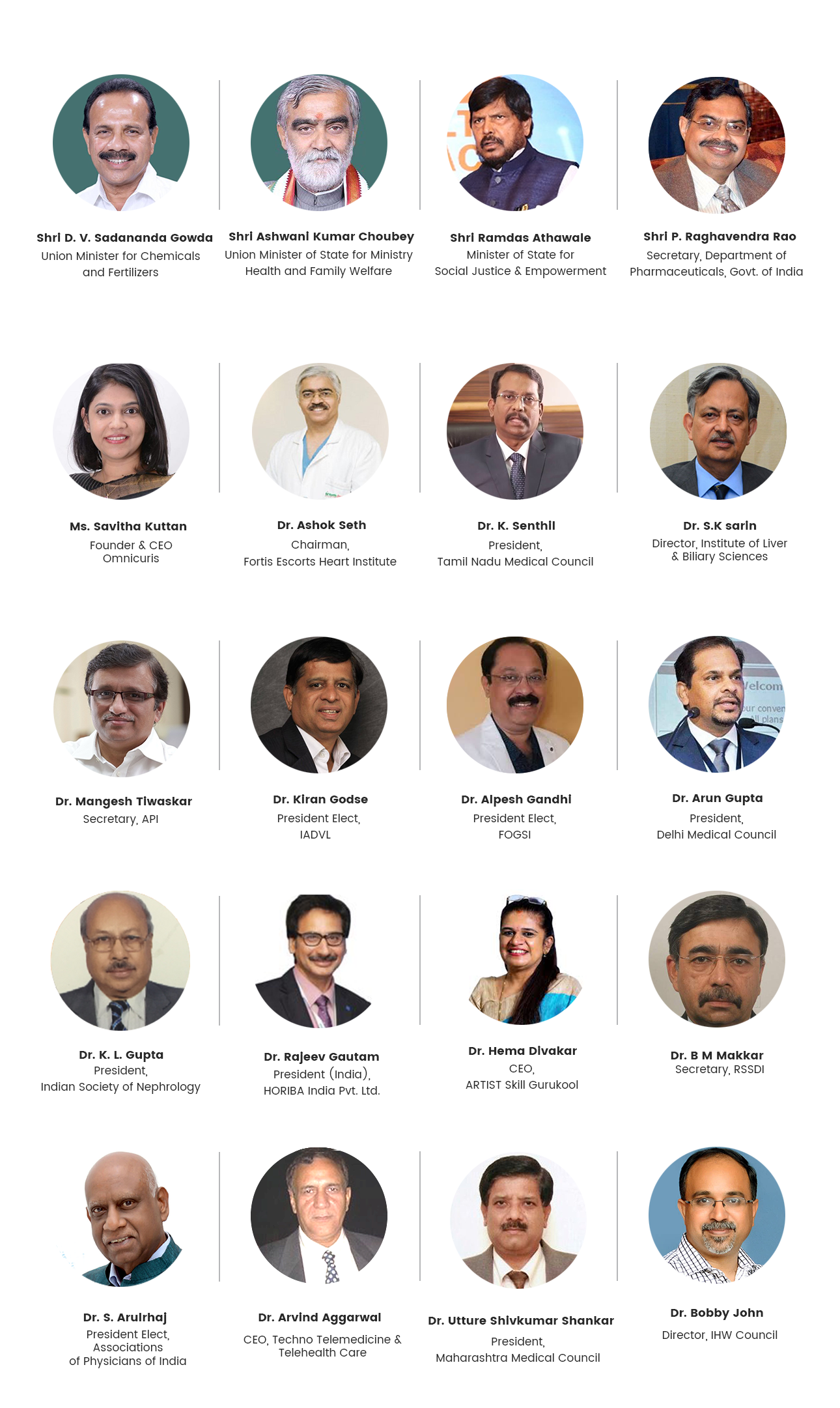 INDIA'S LARGEST ONLINE CME PLATFORM
Omnicuris is an impact driven social enterprise that has pioneered online continuous medical education by leveraging advanced digital technology and combining it with rich medical expertise of reputed medical associations and medical institutes in India with the primary goal of improving quality of healthcare through continuous education and training. Omnicuris also works with various state governments to improve the quality of healthcare through upskilling of healthcare providers with a special focus on rural India. With partnerships of over 15 national medical associations and 10 premium medical institutes, Omnicuris works hand in hand with ministry of health and family welfare departments across various states on tangible metrics such as increasing early diagnosis, decreasing maternal mortality, increasing treatment accuracy rates, etc.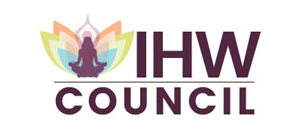 IHW Council works towards creating awareness and advocacy for a healthier, happier world. With the core belief that health is everyone's responsibility, IHW Council initiatives get everyone talking about health at the national and international level. It is our guiding philosophy that focused, dedicated efforts which impact areas related to health should be recognized to inspire more hands and more initiatives that can contribute towards the making of a healthy nation. Our core belief stands to be that health is everyone's priority and all human enterprises need to have national health as a larger goal.

Past Partners of IHW Council Initiatives

FIEE Complex, Block-A 31, 2 & 3 floor, Okhla Phase-II, New Delhi – 110020 (India)
secretariat@cmeexcellenceawards.com